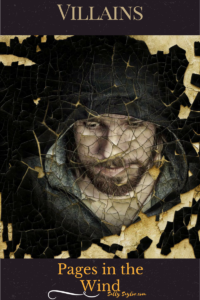 Villains. They're interesting to write and sometimes fun to hate. My upcoming book, Brooklyn Bitters, has a "love to hate" villain. The villain in Pages in the Wind, however, is evil. He makes you uncomfortable and can bring up some intense feelings. In this passage, Emily walks in on the villain who is about to manipulate her:

I stepped into the front room and rolled my eyes, recognizing Father's Pierre Cardin slacks underneath a newspaper. I tried to sneak past him.

I cringed at the sound of paper crumpling.

"What are you doing?" he asked. He smoothed the newspaper and placed it on the coffee table.

"Not much." The question and the folded paper told me he wanted a confrontation. I didn't. I decided to do my time and leave quickly. Indifference was my best weapon. Of course, it's play-acting because every word he had ever said to me was like stepping on dog feces; no matter how hard I scraped the bottom of my shoe, it still stunk.

He looked like he'd just returned from the stylist; his hair was short on the sides and wavy on top. He wore a fitted yellow shirt, slacks, and a two-toned belt, which matched his expensive Italian shoes. I chewed the inside of my mouth to prevent the scowl that begged to come out. He enjoyed Grandma's money, and all he ever did for her was change a few light bulbs and beat her granddaughter.