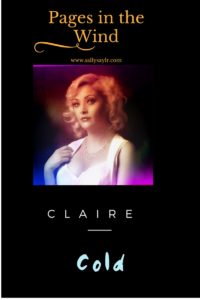 She's not a villain. She's not even mean. Claire doesn't neglect her duties. She educates her children and gives them cultural advantages. She decorates her daughter's bedroom with beautiful French decor. She studies the teen magazines to make sure her child is dressed in the latest trends. But…you won't love her. You probably won't even like her. She's Claire in Pages in the Wind.
In this excerpt, a neighbor compliments Emily's artwork. Eager to get her mother's opinion, she raises the subject. Here it is:
"Of course you can draw, dear. Anyone can draw but drawing doesn't make you an artist. Art is extremely competitive, and most artists don't make a decent living."
"But I could study art in college and get better, right? I could learn how to paint and sell my paintings at shows and stuff?"
"There are other ways to use art, dear. You can study art history or become a librarian. If you want to use your hands, you can go to beauty school and become a hairdresser. There are many careers you can choose if you like art."
I gawked at her, speechless. She delivered the verdict and the punishment at the same time. She might as well have said, "No, you have no talent, and put away your sketchpad and do my hair."
She smiled and returned to the countertop. She picked up a can of Pledge, polishing the wood to a yellowish-brown patina. I watched her shine the teak counter to perfection, but she had thrown enough muck on me to sully a landfill. I retreated to my bedroom.