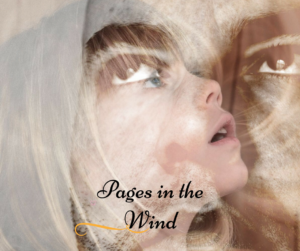 Have you ever had a gut feeling that you ignored? In Pages in the Wind, Emily, our heroine, agrees to go on an outing with her father. Sounds good except it isn't…at seventeen, it is their first time alone. He's never said a kind word to her. Still, she longs to have a dad and agrees to go. Let's just say it did not go well:
We stopped at a new red Corvette. The old saying "money can't buy happiness" didn't apply to Father. Since retiring from the Navy and inheriting Grandma's money, he splurged on designer suits, Rolex watches, and now a fancy hot rod.
He swung open the passenger door. "Cool ride, aye?"
"Sure." I got into the car thinking how his new haircut, suntan, and casual clothes made him appear younger than his fifty years.
He stepped on the gas. "Here we go!"
"Yeah," I said, cringing at my one-word vocabulary.
He chatted about the car, from the V8 engine, the chrome grill, the convertible top, and the top-of-the-line options. He drove ten miles over the speed limit, which made the cabin roar. I nodded with a steady stream of "wows" and "cools." If he rattled off car features all night, right down to the top stitching on the seats, that would be perfect because we had nothing in common, and I wouldn't have to talk much.
He turned down an isolated road. I glanced at him and wondered why he stopped talking. The road had no streetlights. No porch lights. In spite of the unlit street, he did not slow down.
My muscles tensed. The headlights on his sports car beamed like dull flashlights into the darkness. The road was narrow with shadows of vegetation on both sides. No other cars were on the road. Father drove in silence with his eyes straight ahead.
The wind whipped through the ragtop as adrenaline pumped through my body. I had to think fast. Clues I hadn't thought of before now seemed obvious. He had never taken me anywhere alone before tonight. I'd never seen the car before so he probably rented it. He drove fast. Too fast to survive a fall. He had planned the outing for one reason.
He's going to murder me.